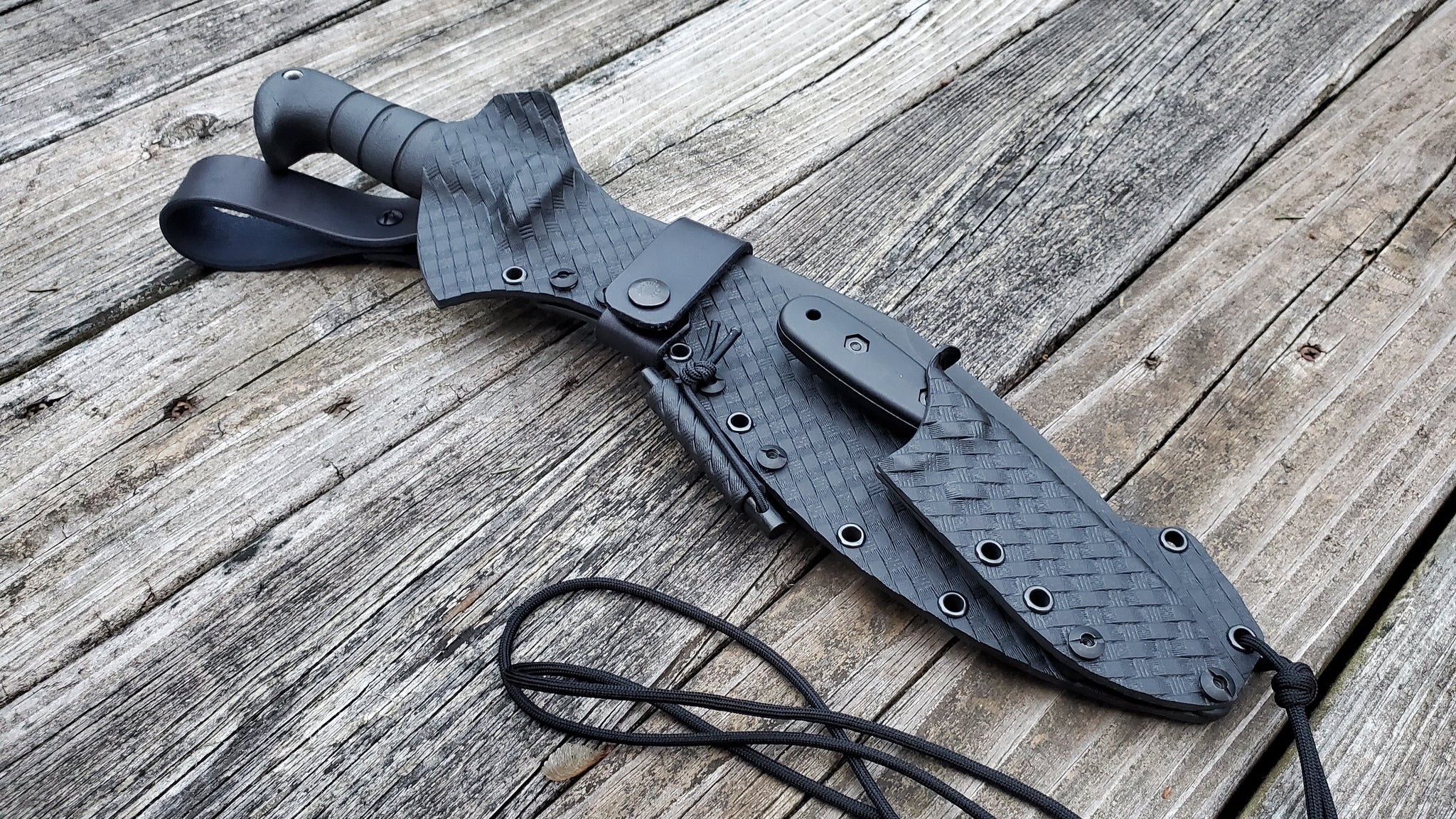 KA-BAR KUKRI #1249 custom "piggy back" Pancake style Kydex Sheath
This is a Custom Kydex SHEATH, for the      KA-BAR "1249 KUKRI" knife. This rig is a Piggyback System. Includes a Sheath for the Main Knife and a Small Sheath for the small knife. Choose your knife combo from the list.
PANCAKE

 

STYLE for the KUKRI & TACO STYLE for the Small knife. 
 Made with .093 KYDEX

 (picture shows the rig in Black BASKETWEAVE pattern)

 FIRESTEEL HOLDER & FIRESTEEL ROD COMBO, in 5/16" diameter. 
BELT

 

ATTACHMENT is a Leather Dangler System, Made with 10oz Heavy Duty Thick Veg Tanned Premium Genuine Italian Leather. Belt Loop is hand cut and fitted uniquely to each Sheath I make. Every Leather piece is dyed, edges beveled and edges burnished.
LEATHER SECURITY STRAP FOR LONG TERM SECURITY AND TRAVEL. Not required as a main way of securing the knife. Retention created by the molding impressions in the Kydex, creates excellent retention by itself. The Strap uses Premium "Pull-the-dots " directional snaps.
Genuine MIL-SPEC 550 3X7 Paracord Lanyard with approximately 5' of Cordage.
MODULAR SHEATH
This sheath design and eyelet spacing and positions allow for most aftermarket attachments.  Eyelet spacing has been carefully thought out from the tip to handle! This sheath can be created into a fully outfitted Piggyback system, Firesteel holder or any attachment I make, pouches, using the eyelets at the tip or along any Eyelet. My parts are interchangeable. Please understand the mounting positions with aftermarket attachments to be sure they are compatible. The universal hole spacing used by many popular aftermarket brands are 3/4" and 1.5". I space all my holes at 3/4" and 1.5"...
This Sheath Has two individual Sheaths combined to create the Piggyback system. The small sheath can be removed and belt attachment added to be worn separately,  or with paracord lanyard as a neck Knife!.
Choice of SOME of the smaller Knives I carry. Please contact me to let me know what knife you want the sheath for and to see if I carry it. The list below is roughly half of the small knives. 
BK-14, BK-11, MORA COMPANION HD, MORA COMPANION 860 STAINLESS STEEL,  MORA COMPANION 840 CARBON STEEL, MORA GARBERG,  MORA KANSBOL, MORA 2000, MORA 2010, TERÄVÄ 85, TERAVA 80, TERAVA 110, MORA ELDRIS,  AND MORE.....
>>>PLEASE CONTACT ME TO SEE IF I HAVE THE SMALL KNIFE YOU WANT THE SHEATH FOR BEFORE PLACING THE ORDER.<<<<
EYELETS ARE LONG BARREL for extra assembly strength.
Eyelets are spaced 3/4" apart and are 1/4" diameter.
The eyelets are positioned to accept aftermarket attachments such as tek-lok, molle-lok, MALICE clips, and More. Or ANY of my custom kydex attachments.
RETENTION IS EXCELLENT with absolutely no worry of either knife falling out. This rig can be carried inverted without worry. Holds Nice, Firm & solid when put away. JUMP, RUN, CRAWL AND ROLL, it is securely locked away until you need it!
     >>>>Shipping is FREE IN THE USA.<<<<
PLEASE READ TO UNDERSTAND Lead time to Make the Sheath. THESE ARE HANDMADE ONE AT A TIME.
There is a lead time of ROUGHLY 2 weeks. This all depends on workload but the usual time frame is about 2 weeks from the time the order was placed.
THIS IS ONLY AN ESTIMATE THERE ARE TIMES I COULD BE VERY BUSY AND TAKE A LITTLE LONGER...And many times I am able to get the order out quickly! 
I am a "one man show", so I could take a couple days to respond to messages if overwhelmed with orders and messages, which at times it does happen. I realize I will NOT please every customer, but I do try. 
Whats included?
PANCAKE SHEATH, Small Taco Sheath, Firesteel Holder, 5/16" Firesteel Rod,  ATTACHMENT WITH HANDLE STRAP AND GENUINE 550 MIL-SPEC PARACORD ONLY!
KNIFE NOT INCLUDED!!
                       KNIFE IS NOT IN