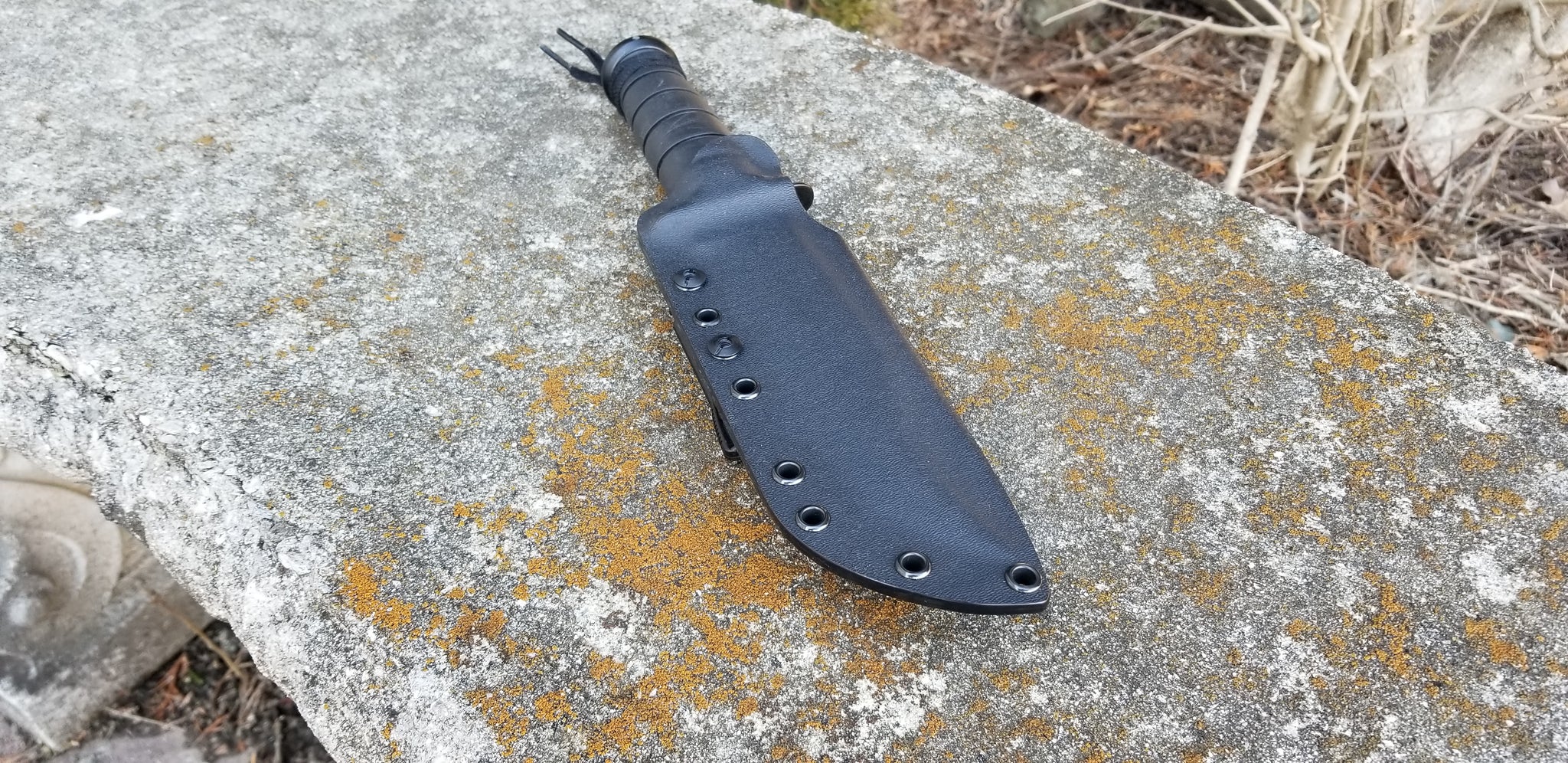 KA-BAR USMC & FULL SIZE KNIFE Kydex Sheath in Taco Style, tek-lok Style
This sheath is custom designed for the KA-BAR USMC knife and the KA-BAR FULL SIZE FIGHTING KNIFE. This sheath will fit Both , including serrated blade.  Shown in Black Kydex, pancake style.
::::::PLEASE NOTE:::::: >>>>>>(((((((The Ka-Bar full size fighting knife and USMC knife must have the fuller groove (blood groove) touching (fully contacting) the primary Bevel. There are two generations of this knife. One with Bevel touching the blood groove and the other generation with a small 2mm-3mm space between the blood groove and the primary bevel.))))) The blade that has the blood groove touching the Primary Bevel is the original WWII Grind. The blade MUST be the WWII Grind. IF YOU ARE NOT SURE, PLEASE CONTACT ME!! (IF YOUR KNIFE DOES HAVE A SPACE BETWEEN THE BEVEL AND BLOOD GROOVE, CONTACT ME, I CARRY THE OTHER VERSION AS WELL. YOU NEED TO CONFIRM THAT WITH ME. THE TWO STYLES WILL NOT INTERCHANGE AND WILL NOT FIT. I MUST USE THE CORRECT BLADE TYPE!!) You can still place the order , just send me an email with name and order number and I will make note to use the proper knife in the build process. If you have the WWII version, no need to contact me. I will process the order as listed. 
Made with .093 thick Kydex
Belt Attachment included Tek-Lok style attachment. 
Unique taco design with excellent retention that locks the knife firmly in place and split thumb ramp that is unique, originally designed by me, for quick deployment in tactical fashion! This sheath design was designed for Speed deployment and secure lockup so the knife is difficult to remove unless you activate the split thumb ramp by pressing between the split thumb ramp, to open the sheath, just enough to disengage the guard. This allows the knife for quick deployment! I am the 1st to come up with the design. I have tested and practiced with this design and I know how its supposed to work. With practice this rig is ready for action with no hesitation. Just like practicing with your Handgun, you will do the same with this sheath and your knife. No buttons, snaps, velcro to fumble around with when your life depends on your last ditch resort! This sheath can be carried in any positions with the proper attachment, vertical, horizontal, inverted, canted or whatever you need.
Multiple options if you choose to attach molle-Lok, Tek-lok, D.O.T.S. Combat Loop (similar to the Tek-Lok but with improved locking feature), Malice clip, any of my custom kydex belt attachments, or paracord.
Sheath is modular and have the ability to add, stack and mount a lot of anything as long as the attachment points are 3/4" spaced.
Eyelets are 3/4" spaced and are 1/4" diameter to handle anything you want to mount. (IF YOU NEED EYELETS TO BE SPACED DIFFERENTLY, PLEASE CONTACT ME, I CAN CHANGE SPACING UP TO A LIMIT SINCE SPACING NEAR THE GUARD/HANDLE IS ALREADY "SET" SINCE THAT DETERMINES RETENTION, BEYOND THAT, I CAN INCREASE OR DECREASE SPACING ALONG THE BLADE TO TIP) 
                                      MORE INFO IN THE FAQ PAGE
                        PLEASE READ, PLEASE READ, PLEASE READ....
Custom made and requires 1 to 2 weeks lead time. PLEASE KEEP THIS IN MIND. This all depends on workload but that is the average build time. sometimes less, sometimes more, but 90% of the time I am between 1-2 weeks. PLEASE DO NOT EMAIL ME CONSTANTLY CHECKING UP ON BUILD STATUS, I NEED TO BE WORKING IN THE SHOP, NOT CHECKING MESSAGES ALL DAY. ONLY IF IT IS INVOLVING ANY MODIFICATIONS TO YOUR SHEATH OR QUESTIONS YOU MIGHT HAVE THAT'S NOT ON THE WEBSITE. IF YOU NEED SOMETHING SHIPPED QUICKLY, PLEASE DISCUSS A TIME FRAME, BEFORE YOU PLACE AN ORDER, SO I CAN BE SURE TO HAVE YOUR ORDER PROCESSED QUICKLY. DEPENDING ON THE TYPE OF ORDER IT IS, THERE MAY BE AN UP CHARGE FOR MOVING YOUR ORDER UP FOR FASTER PROCESSING. I PROCESS ORDERS IN THE ORDER IN WHICH THEY COME IN.
                                           FREE SHIPPING IN USA!!
  For a completely custom sheath simply contact me with specific details.
+Knife is NOT included