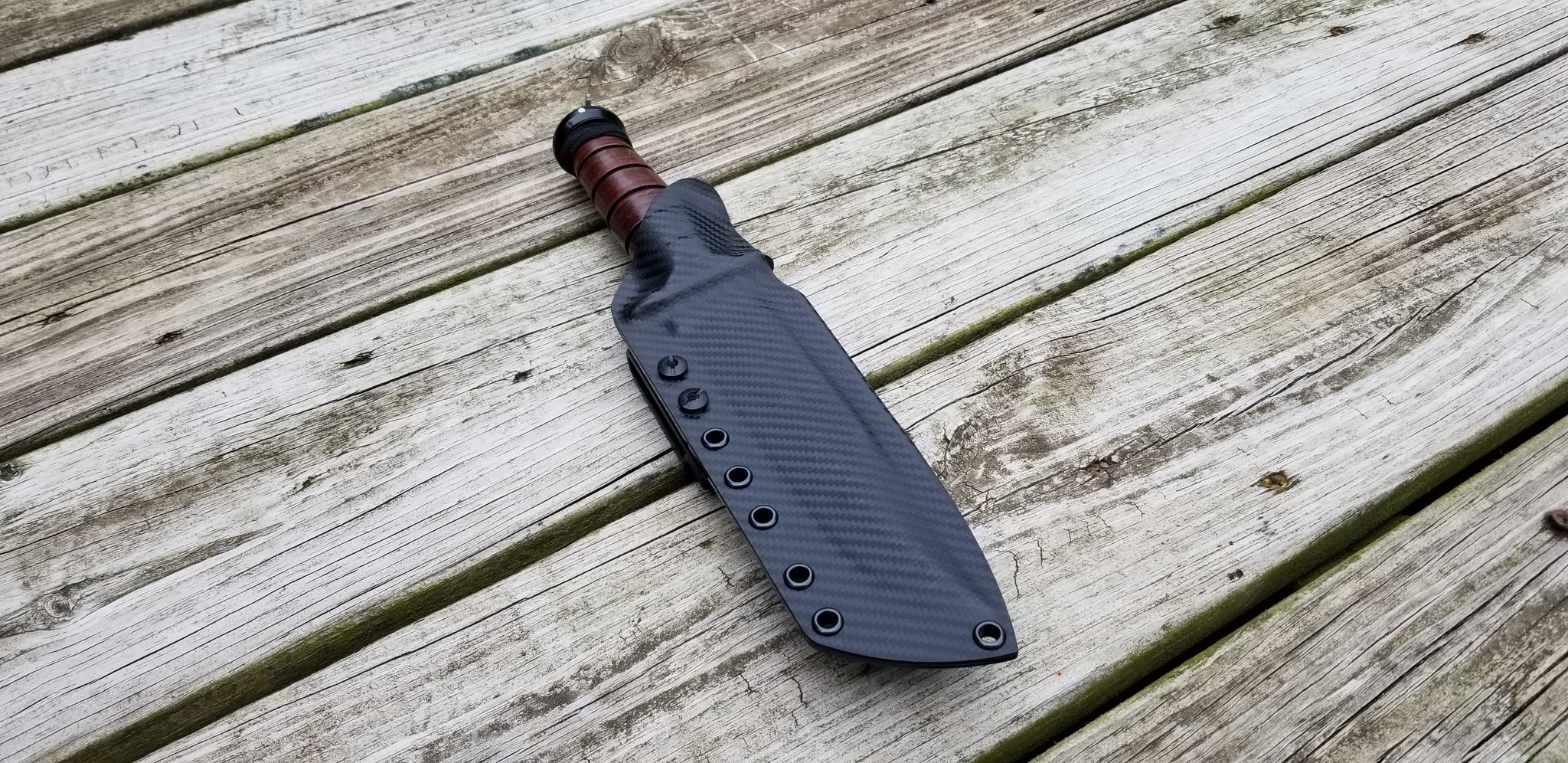 KA-BAR USMC custom Taco kydex sheath plus Clip
Custom Kydex sheath with Adjustable clip made for the KA-BAR USMC FIGHTING KNIFE 
Very comfortable wear.
THIS SHEATH fits the "Original WWII GRIND " The blade must have the fuller (blood groove) touching the primary bevel grind. Please compare your bevel and blood groove to the sample picture I added to show the blood groove and bevel actually touching with NO SPACE BETWEEN THE TWO BLADE FEATURES. Otherwise the knife will NOT FIT THIS SHEATH.
PLEASE READ
KYDEX SHEATH WITH THICK .125 kydex adjustable clip that mounts in vertical, horizontal and 45 degree CANTED Angle.
Ambidextrous sheath right and left handed 
Clip fits up to 2" belt. And is fully adjustable.
Hardware used to attach the clip is heavy duty high grade steel slotted post and screw in black Oxide coating.
Sheath is setup for right hand draw mounted on the waist. This sheath is Ambidextrous so you can set this up for either right or left hand users. Just remove the clip and flip it over and tighten the hardware back on, quick and simple. I recommend some blue loctite for the hardware so the screw does not back out. Or just use a dab of clear fingernail polish( not as good as loctite but it does make a difference). 
Color of your choice
Kydex is .080 thick and assembled with long barreled eyelets for added assembly strength. Kydex is a Polymer Alloy that resists hard abusive treatment. It's built like a Tank!
Drain system is at the very tip of the sheath. 
Ambidextrous sheath with the ability to remount the attachments on either side for left or right hand carry. (Note: dangler system does require a left or right version.  Otherwise all attachments can be flipped over either side for left or right hand carry)
Eyelets are 3/4" center to center space and have 1/4" holes to accept most aftermarket attachments such as tek-lok, Molle-lok, Malice and any other attachments that have 3/4" spaced attachment holes or 1.5" spaced attachment holes. 
Eyelets ARE the weakest link therefore I overbuild using long barreled eyelets to create a larger/wider flange which adds to the strength of the assembly. The larger/wider flange also improves the looks of the finished sheath to match closely to the pre flange of the eyelet. (NOTE: Most makers cut costs by using ONLY what's "necessary" to hold the two Kydex halves together which means short eyelets which means tiny flange spread that can easily pull out!) So be sure to compare!! 
All Armorsheaths sheaths are modular and can build into any style rig you desire for whatever adventure you seek. Add a firesteel holder, and a pouch to complete your rig.
These listings are for the sheath and belt attachment ONLY. Knife NOT included. 
Please allow 7-14 days to create your sheath. These are custom made and require time to make. I do not keep ready made sheaths with custom upgrades and requests that require adjustments and redesign. 
Shipping inside the USA is FREE!