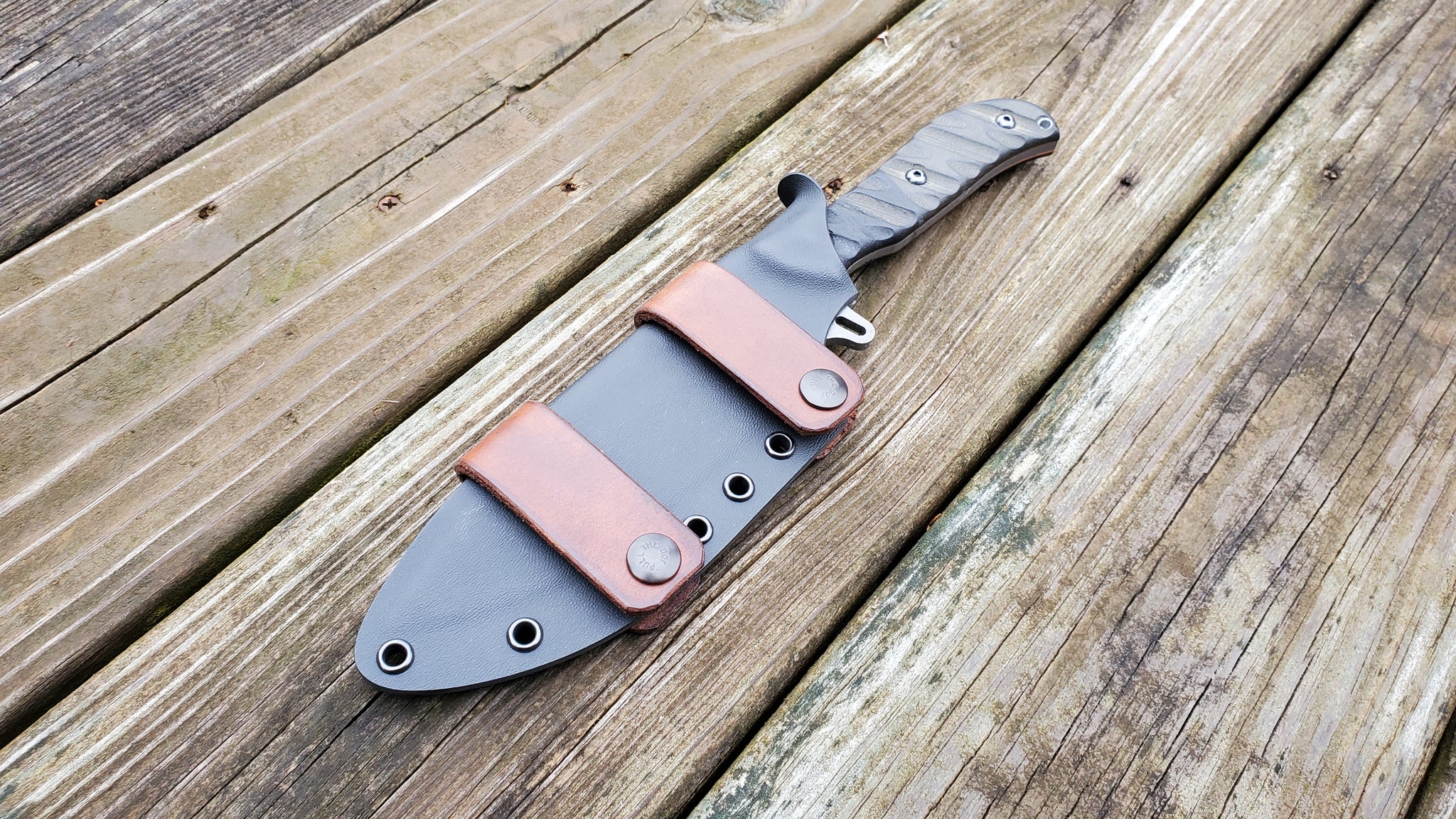 TOPS SILENT HERO custom Taco kydex sheath w/ Leather Scout Straps
This is a Custom Kydex Sheath for the TOPS SILENT HERO w/ a pair of Leather Scout Straps 
 Made with .093 kydex (BLACK is the color shown)
Two LEATHER STRAPS, 10oz Cowhide.
Pull-the-Dots heavy duty directional snaps
Eyelets are long barrel for extra assembly strength.
Eyelets are spaced 3/4" apart and are 1/4" diameter. 

The eyelets are positioned to accept aftermarket attachments such as tek-lok, molle-lok, MALICE clips, and any custom attachments custom made by me.
This sheath is a TACO style and Ambidextrous.
RETENTION IS SOLID
Seamless edge 
Drainage is slot style at tip
             PLEASE READ EVERYTHING BELOW
Modular design
Retention is excellent with absolutely no worry of knife falling out. This rig can be carried inverted.
                     Shipping is FREE IN THE USA.
PLEASE READ TO UNDERSTAND Lead time to Make the Sheath. THESE ARE HANDMADE ONE AT A TIME.
There is a lead time of roughly 2 weeks. This   all depends on work load and time of season, with Christmas Holiday being the longest about 2-4 weeks.
THIS IS ONLY AN ESTIMATE. 
                       KNIFE IS NOT INCLUDED
Please read FAQ page for more detail
I carry about 120 other knives. Contact me for more details. Or you can send your knife if not in my inventory.