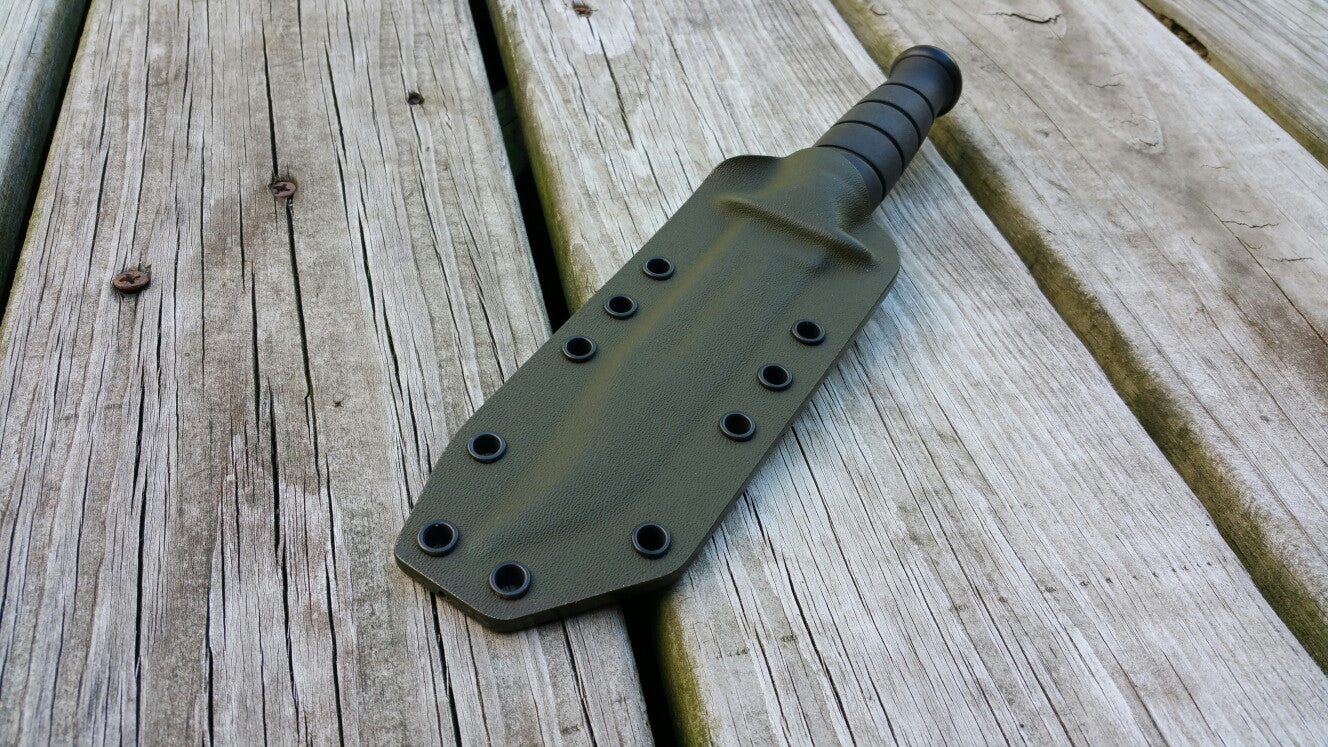 KA-BAR custom Sheath For The Short Model 1256 in Pancake style
Tactical Kydex sheath made of .093 Kydex and assembled with Long barrel high quality USA made eyelets Eyelets.
This sheath completes this Tactical knife 100%! Now you can get rid of that usless factory sheath! This is SHEATH ONLY, no belt attachments, this allows the customer to mount anything they want, Build this rig the way YOU want!!
The longer barrel eyelets that I use improves the strength of the assembly by giving a larger "spread" when the eyelet is pressed and the flange is created. This is something unique that most makers Do Not do. Most of the sheaths I have seen only use eyelets that are designed for the thickness of the kydex they are using. basically if they use .080 kydex, they are using eyelets recommended for .080. I use .093 kydex and I use eyelets designed for .125 thick kydex! That combination creates a Very VERY strong assembly! It costs more, but I build them to be rugged and to last a lifetime. Why else would you buy a kydex sheath? This is how it should be done! Remember, the eyelets ARE the "weakest link" in the entire assembly and I eliminate that by making the upgrade in thick kydex and longer barrel USA made eyelets.
This sheath is designed to accept the TEK-LOK, MOLLE-LOK , MALICE Clip or any custom Kydex belt attachment I make. Mounting holes are 3/4" spaced to allow aftermarket attachments.
This sheath can be worn in any style you wish by using the appropriate attachment. Vertical carry with handle up or inverted handle down, scout horizontal carry, belt carry, attached using the molle webbing on a pack, vest, ect, or shoulder strap, You Name it!.....Just choose the attachment that has the mount hole spacing that matches, 3/4" spaced and 1/4" dia hole. 
I can make these in MOST Popular colors. If you do not see a color listed send me an email and we can talk about your ideas. The sheaths I make are "made to order" and that allows you to create what you want. 
There is a 1-2 week lead time in creating your custom sheath. usually I can have it ready to ship in a week but due to the nature of this business the number of orders I make everyday is not the same. Sometimes a few and sometimes a lot. So please understand this. Because I put a lot of effort into quality, sales have been steadily increasing. If your not interested in quality and want it to ship by the next day please move on, I take pride in doing what I do and that requires personal attention for every sheath I make and that requires 1-2 weeks (roughly) lead time. If you have a special request and your order is time sensitive please contact me so we can try to meet your deadline. Please read my FAQ page for details.