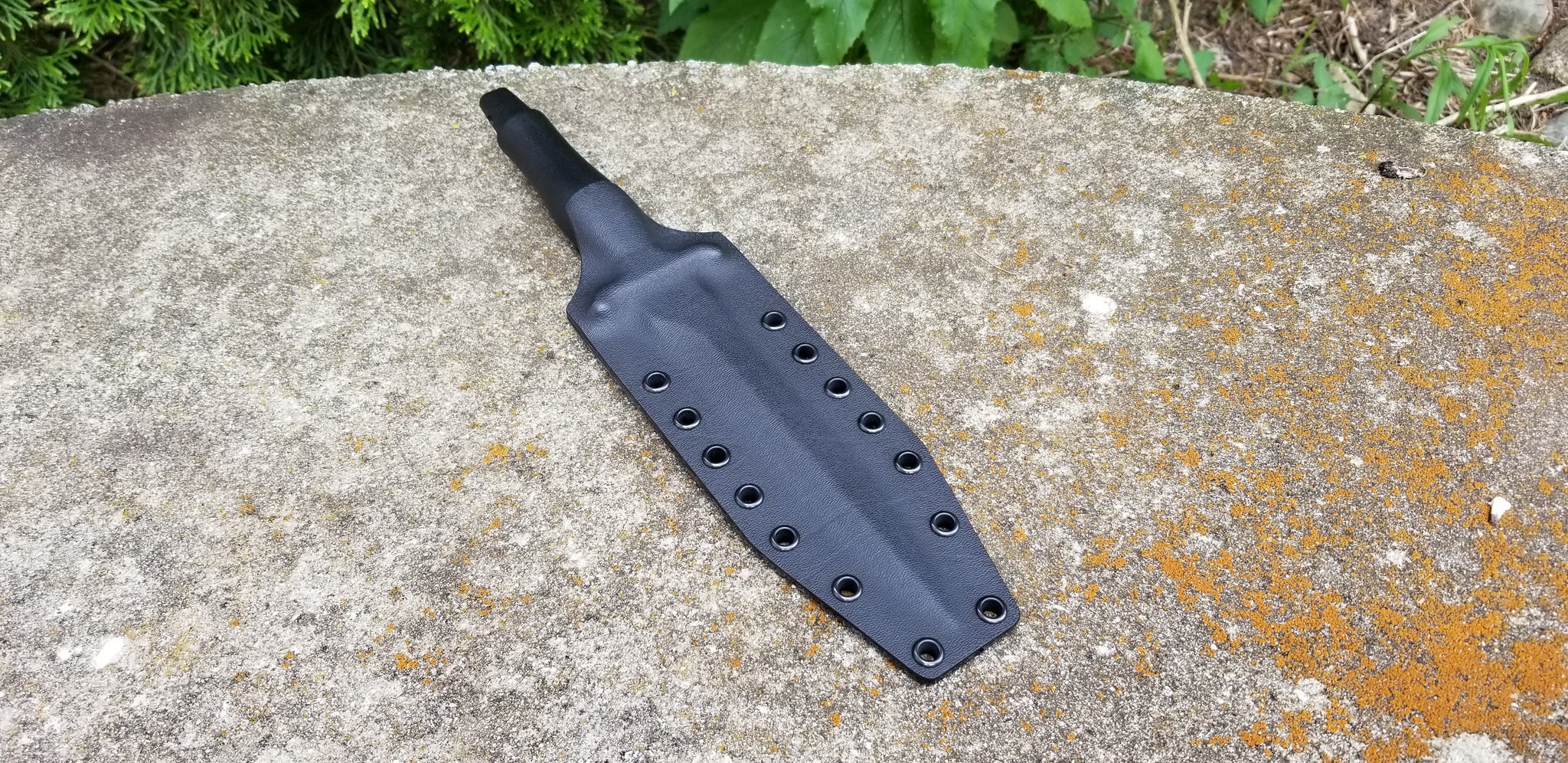 Gerber Mark II custom Pancake style Kydex Sheath
This is a Custom Kydex Sheath for the GERBER MARK II  DAGGER
This sheath is EXACTLY what should have come with this knife! This is a Tactical Sheath that completes the Knifes Functionality by creating speed & ease of deployment and secure hold of the knife AND NO RATTLE! No buttons, velcro or Snaps to fumble with or to wear out! This Knife is ready to be used the split second you need it! Once you get used to using your knife and Kydex sheath you will be amazed at how efficient this new rig is in a tactical situation.  
THIS SHEATH IS MADE FOR THE MODEL # 22-01874
If you have a "Vintage" please identify the model you have and please make sure your blade and handle is IDENTICAL to the Model I carry. CONTACT ME IF YOUR NOT SURE WHAT YOU HAVE.
PLEASE RESEARCH COMPATIBILITY OF YOUR KNIFE. OVER THE YEARS, ESPECIALLY MUCH OLDER GENERATION MODELS  OF THE GERBER MARK II, THERE WERE SIGNIFICANT BLADE PROFILE DIFFERENCES AND HANDLE DIFFERENCES. IT IS YOUR RESPONSIBILITY TO BE SURE YOUR KNIFE IS THE SAME AS MINE. THIS WARNING IS FOR THE VINTAGE KNIFE OWNERS.
Made with .093 kydex (BLACK is the color shown)
Eyelets are long barrel for extra assembly strength.
Eyelets are spaced 3/4" apart and are 1/4" diameter. 
The eyelets are positioned to accept aftermarket attachments such as tek-lok, molle-lok, MALICE clips, and more!
This sheath is a PANCAKE style and Ambidextrous.
RETENTION IS SOLID! And Perfect for Inverted carry if you choose! This is a TRUE TACTICAL SHEATH! Designed for Speed and ease of deployment. Oh and quiet! No Rattle!!
Seamless and polished edge with drainage at the very tip edge.
             PLEASE READ EVERYTHING BELOW
Modular design  and will accept any attachment with the mounting specifications and accessories such as firesteel holders and flashlight accessories. Just mount and screw it together.
Retention is excellent with absolutely no worry of knife falling out. This rig can be carried inverted without worry. Holds nice and tight with a solid "CLICK" when the knife is put away. JUMP, RUN, CRAWL AND ROLL and knife is securely locked away until you need it!
                     Shipping is FREE IN THE USA.
PLEASE READ TO UNDERSTAND Lead time to Make the Sheath. THESE ARE HANDMADE ONE AT A TIME.
There is a lead time of one to two weeks. This all depends on workload but the usual time frame is about a week from the time the order was placed.
THIS IS ONLY AN ESTIMATE. BUT ONE WEEK IS THE USUAL TIME FRAME.
                       KNIFE IS NOT INCLUDED
I carry about 120 other knives. Contact me for any custom orders.