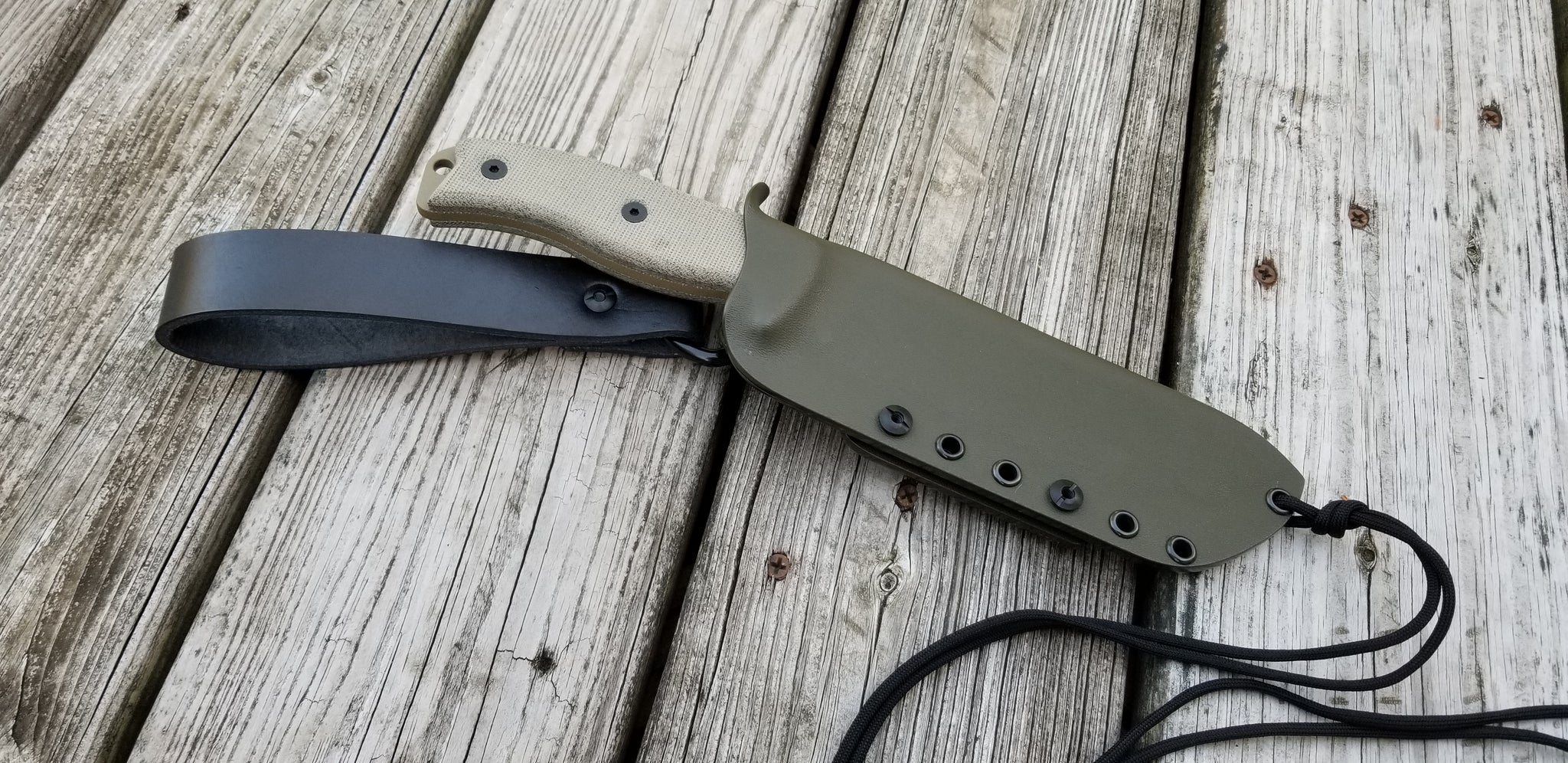 ESEE-6 Custom Taco style Kydex Sheath w/ Leather Loop Kydex Dangler
This is a Custom Kydex Sheath for the ESEE-6 Knife with a Leather Loop Kydex Dangler setup for right hand use and right side wear. Includes approximately 4' of Genuine Mil-Spec paracord Lanyard.
Sheath Style is Taco Style.
Made with .093 kydex (OD GREEN is the color shown) but you can choose from the list of colors 
Eyelets are long barrel for extra assembly strength.
Eyelets are spaced 3/4" apart and are 1/4" diameter. 
The eyelets are positioned to accept aftermarket attachments such as tek-lok, molle-lok, MALICE clips, and more!
This sheath is a TACO style and Ambidextrous.
RETENTION IS SOLID! And Perfect for Inverted carry if you choose! Designed for Speed and ease of deployment. Oh and quiet! No Rattle!! And very light.
A Heavy duty cowhide Leather Loop secures the rig to your belt. The Dangler has some room to adjust its ride height by moving up or down along the row of eyelets and securing the chicago screws sets. (LOCTITE IS RECOMMENDED ON THREADS)
Seamless and polished edge with drainage at the very tip edge.
             PLEASE READ EVERYTHING BELOW and refer to the FAQ page of this website for more detail of the sheath.
Modular design  and will accept any attachment with the mounting specifications and accessories such as firesteel holders and flashlight accessories. Just mount and screw it together.
Retention is excellent with absolutely no worry of the knife falling out. This rig can be carried inverted without worry. Holds nice and tight with a solid "CLICK" when the knife is put away. JUMP, RUN, CRAWL AND ROLL its securely locked away until you need it!
                     Shipping is FREE IN THE USA.
PLEASE READ TO UNDERSTAND Lead time to Make the Sheath. THESE ARE HANDMADE ONE AT A TIME.
There is a lead time of one to two weeks. This all depends on workload but the usual time frame is about a week from the time the order was placed.
THIS IS ONLY AN ESTIMATE. BUT ONE WEEK IS THE USUAL TIME FRAME.
                       The KNIFE IS NOT INCLUDED
                             Contact me for any custom orders.