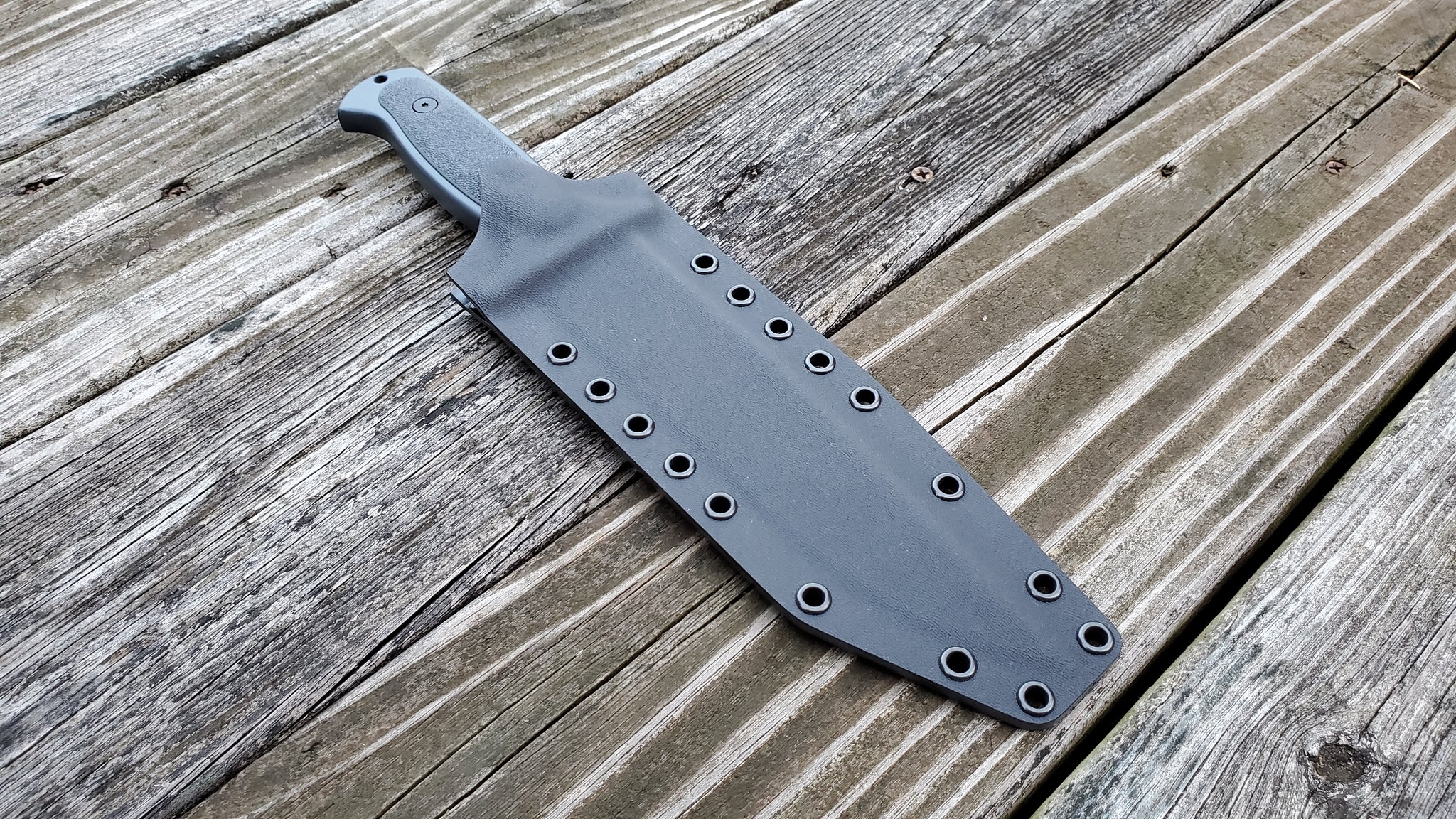 Cold Steel "Drop Forged SURVIVALIST" custom Pancake style Kydex Sheath
Custom Kydex sheath for the Cold Steel Drop Forged "SURVIVALIST" Knife.
KYDEX SHEATH ready for any attachment you need. 
WHATS INCLUDED: SHEATH ONLY, NO.        ATTACHMENTS 
Color of your choice
Pancake Style Sheath (two rows of eyelets)
Kydex is. 093 thick and assembled with long barrel eyelets for added assembly strength. 
Drain system is at the very tip of the sheath. 
Solid Retention and "Click" when knife is put away. Retention allows knife to be carried in Horizontal "Scout" Carry or Inverted carry.
No "Snaps, velcro, buttons" to fumble with or wear out, NO moving parts to wear out! Knife deployment is quick with the press of your thumb or a quick pull. This makes access very easy when you only have one hand to deploy the knife. The functionality is ideal for Tactical use. 
Ambidextrous sheath with the ability to remount the attachments on either side for left or right hand carry. (Note: dangler system does require a left or right version on TACO Style Sheaths).  Otherwise all attachments can be flipped over either side for left or right hand carry)
Eyelets are 3/4" center to center space and 1/4" diameter holes to accept most aftermarket attachments such as tek-lok, Molle-lok, Malice and any other attachments that have 3/4" spaced attachment holes or 1.5" spaced attachment holes. The Eyelet hole diameter allows the use of Heavy Duty Hardware (Posts, Screws, Chicago Screws, ect..) for a Rock Solid Assembly! 
All Armorsheaths sheaths are modular in design. The Sheath is capable of Many Carry Styles and Attachment Configurations. Add a firesteel holder with Firesteel, pouch, compass, flashlight, FirstAid, Fire Starting Kit/Tin, ANYTHING you can fit, including "Piggyback" knife Combinations. l make ANY Attachment you need. 
                    PLEASE READ BELOW                               AND FAQ PAGE FOR MORE DETAILS
These listings are for the sheath ONLY and ANY other item that will be listed as part of the sheath if its described above. Knife NOT included. 
Please allow 7-14 days to create your sheath. PLEASE READ FAQ AND MAIN PAGE FOR SHIPPING UPDATES. I DO OCCASIONALLY GET VERY BUSY SO LEAD TIME COULD INCREASE.
These are custom made and require time to make. I do not keep ready made sheaths due to custom upgrades and requests that customers ask for often. I ONLY Focus on the exact items the customers order. I fulfill their requests if Any Changes are desired. I AM a "CUSTOM" Kydex Craftsman, NOT a "FACTORY" that churns out Quantity. My Focus is the Customers Needs and QUALITY Craftsmanship, "One Sheath at a time"... I Work Alone, not depending on someone else to help complete a Sheath, and Take details of finish down to the last Eyelet with precision.
            Shipping inside the USA is FREE!