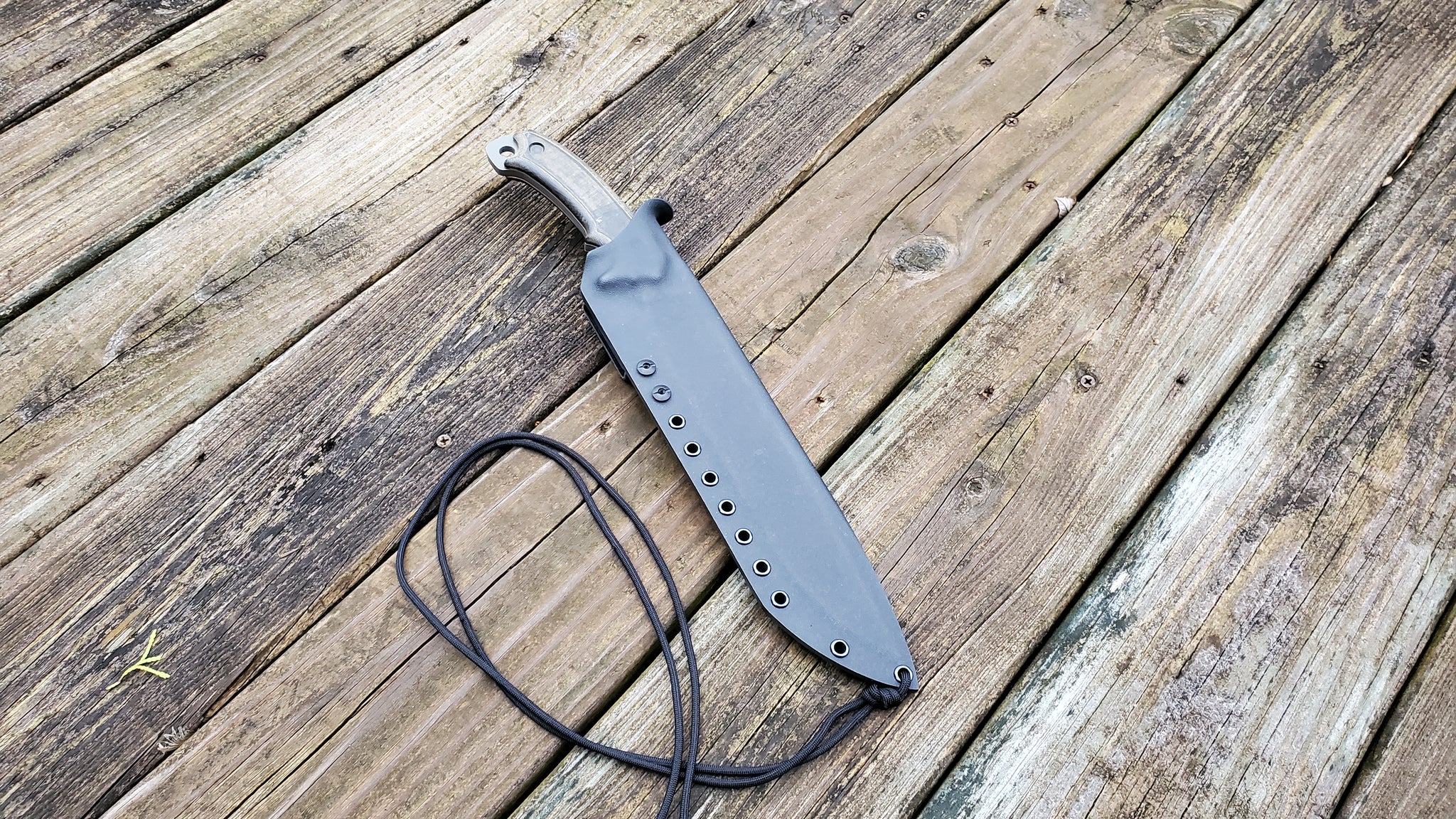 BUCK Knives " HOODLUM " Custom Kydex Sheath, Taco, Belt Clip
Custom Kydex sheath for the Buck Knives " HOODLUM " Knife.
WHATS INCLUDED:  SHEATH & ADJUSTABLE BELTLOOP 
Color of your choice
TACO Style Sheath (Single row of eyelets)
Kydex is .093 thick and assembled with long barrel eyelets for added assembly strength. (.093 thick kydex creates a HARD SHELL that surrounds the Blade for MAXIMUM Protection of the Blade when compared to the thinner materials. The thin kydex will flex and collapse much more easily which does NOT help with blade protection! With flex and the extra "softness" in the thinner materials, there is a higher risk of Blade Rubbing and just flex of the blade if sitting on, or anything else that can change the shape of the sheath, even if ran over the thick kydex will protect the knife much better! A thicker .093 kydex has less flex due to the stiffness and MORE retention security. Impressions made with the .093 will maintain its integrity giving the knife a "hard case" and solid retention.
DRAIN SYSTEM is a SLOT STYLE at tip, (NOT through side of Sheath. The Slot Allows maximum drainage.) 
BELT ATTACHMENT is a Closed Loop with adjustable mounting, using the holes. Vertical and Canted adjustments.  This particular belt loop is also capable of scout carry but 2 of these loops are recommended,  due to the size of the knife and sheath. The Vertical carry and Canted carry is what this rig is setup for.  
Long Barrel Premium USA Eyelets. (The longer barrel creates a thicker flange increasing strength of the assembly and resembles the looks of the factory finished side of the eyelets, making this the perfect Ambidextrous Sheath.)
SOLID Retention when knife is put away. Retention allows knife to be carried in Horizontal "Scout" Carry or Inverted "upside-down" carry. Retention is created by the impressions made during the molding/pressing process of the heated kydex. .093 gives the BEST IN RETENTION in holding its shape with reduced flex. .080 and  .060 will naturally have more flex, reduced retention due to it being thinner.
No "Snaps, velcro, buttons" to fumble with or wear out, NO moving parts to wear out. Knife deployment is quick with the press of your thumb or a quick "Yank/Pull". This makes access very easy when you only have one hand to deploy the knife. The functionality is ideal for Tactical/Survival use! Which is why Kydex is Highly sought after in the tactical, Military, Law Enforcement, Knife Fighting, Martial Arts, Survival World where quick deployment could be the difference between Life or Death.
Ambidextrous sheath with the ability to remount the attachments on either side for left or right hand carry. (Note: dangler system does require a left or right version on Some "TACO" Style Sheaths).  Otherwise all attachments can be flipped over either side for left or right hand carry)
Eyelets are 3/4" center to center spaced and 1/4" diameter holes to accept most aftermarket attachments such as Tek-Lok, Molle-Lok, Malice and any other attachments that have 3/4" spaced attachment holes or 1.5" spaced attachment holes. The Eyelet hole diameter allows the use of Heavy Duty (8-32 thread by 1/4" diameter Steel Posts and Screws) Hardware (Posts, Screws, Chicago Screws, ect..) for a Rock Solid Assembly, NOT the Tiny, Thin screws and posts that come with a lot of the aftermarket attachments from the Factory!
All Armorsheaths sheaths are modular in design. The Sheath is capable of Many Carry Styles and Attachment Configurations Just from ONE SHEATH! Add a firesteel holder with Firesteel, pouch, compass, flashlight, FirstAid, Fire Starting Kit/Tin, ANYTHING you can fit, including "Piggyback" knife Combinations. l make ANY Attachment you need. 
                    PLEASE READ BELOW                               AND FAQ PAGE FOR MORE DETAILS
The listing is for the sheath ONLY. Knife NOT included. 
Please allow ROUGHLY 7-14 days to create your sheath. PLEASE READ FAQ AND MAIN PAGE FOR SHIPPING UPDATES. I DO OCCASIONALLY GET VERY BUSY SO LEAD TIME COULD INCREASE DUE TO THE DEMAND OF MY SHEATHS AT TIMES.
These are custom made and require time to make. I do not keep ready made sheaths due to custom upgrades and requests that customers OFTEN ask for. I AM a "CUSTOM" Kydex Craftsman, NOT a "FACTORY" that churns out Quantity. My Focus is "One Sheath at a time"... I Work Alone, not depending on someone else to help complete a Sheath,  I finish to the last Eyelet with precision. This is how I can provide High Quality Product thats TRULY Custom Made By Hand BY ME and Not Mass Produced focused on the "Bottom Line".
            Shipping inside the USA is FREE!