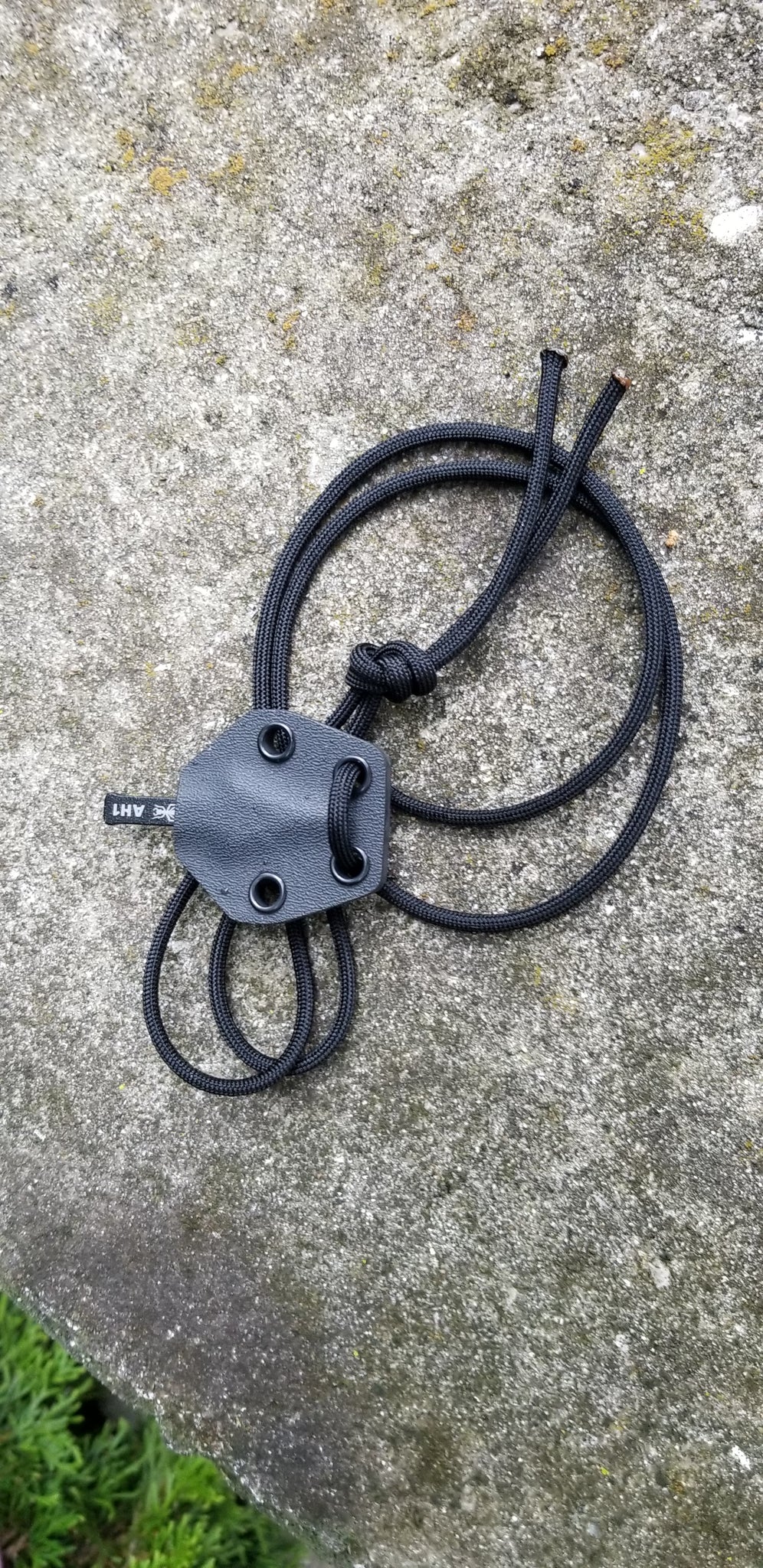 ESEE AH-1 Arrowhead Pancake style kydex sheath "Necker" & Paracord Lanyard
Custom Kydex sheath with approximately 3.5' of Genuine (MIL-SPEC) 550 paracord for Neck Carry.
Made for the ESEE AH-1 ARROWHEAD 
PLEASE READ
KYDEX SHEATH WITH approximately 3.5' of Genuine (MIL-SPEC) 550 paracord.  Excellent for EDC NECK CARRY. And a VERY reliable system that is finally available for this Arrowhead!
Excellent retention with absolutely NO WORRIES OF THE ARROWHEAD FALLING OUT. A NICE TUG WILL POP THE POINT OUT.
Color of your choice
Kydex is .093 thick and assembled with long barreled eyelets for added assembly strength. 
Ambidextrous sheath with the ability to mount attachments on either side for left or right hand carry. OR JUST THROW IT IN YOUR POCKET!
You can also attach this sheath to other sheaths with 3/4" hole spacing, as a "stacked" system. Or any of the sheaths I make.
Eyelets are 3/4" center to center space and have 1/4" holes to accept most aftermarket attachments such as tek-lok, Molle-lok, Malice and any other attachments that have 3/4" spaced attachment holes or 1.5" spaced attachment holes. 
Eyelets ARE the weakest link therefore I overbuild using longer barreled eyelets to create a larger/wider flange which adds to the strength of the assembly. The larger/wider flange also improves the looks of the finished sheath to match closely to the pre flange of the eyelet. (NOTE: There are a lot of makers that cut costs by using ONLY what's "necessary" to hold the two Kydex halves together which means short eyelets which means tiny flange spread that can easily pull out!) So be sure to compare!! 
All Armorsheaths sheaths are modular and can build into any style rig you desire for whatever adventure you seek. Mount to the side of the sheath or around your neck as a necklace.
These listings are for the sheath and paracord ONLY. Knife NOT included. 
Please allow ROUGHLY 7-14 days to create your sheath (busiest during the Holidays and certain times of the year). These are custom made and require time to make. I do not keep ready made sheaths with custom upgrades and requests that require adjustments and redesign. PLEASE DON'T HOLD ME TO EXACTLY 14 DAYS. I cannot control how many orders I get every week. I'm a ONE MAN SHOW...Lead time does fluctuate.
Shipping inside the USA is FREE! 
READ THE FAQ for more details.