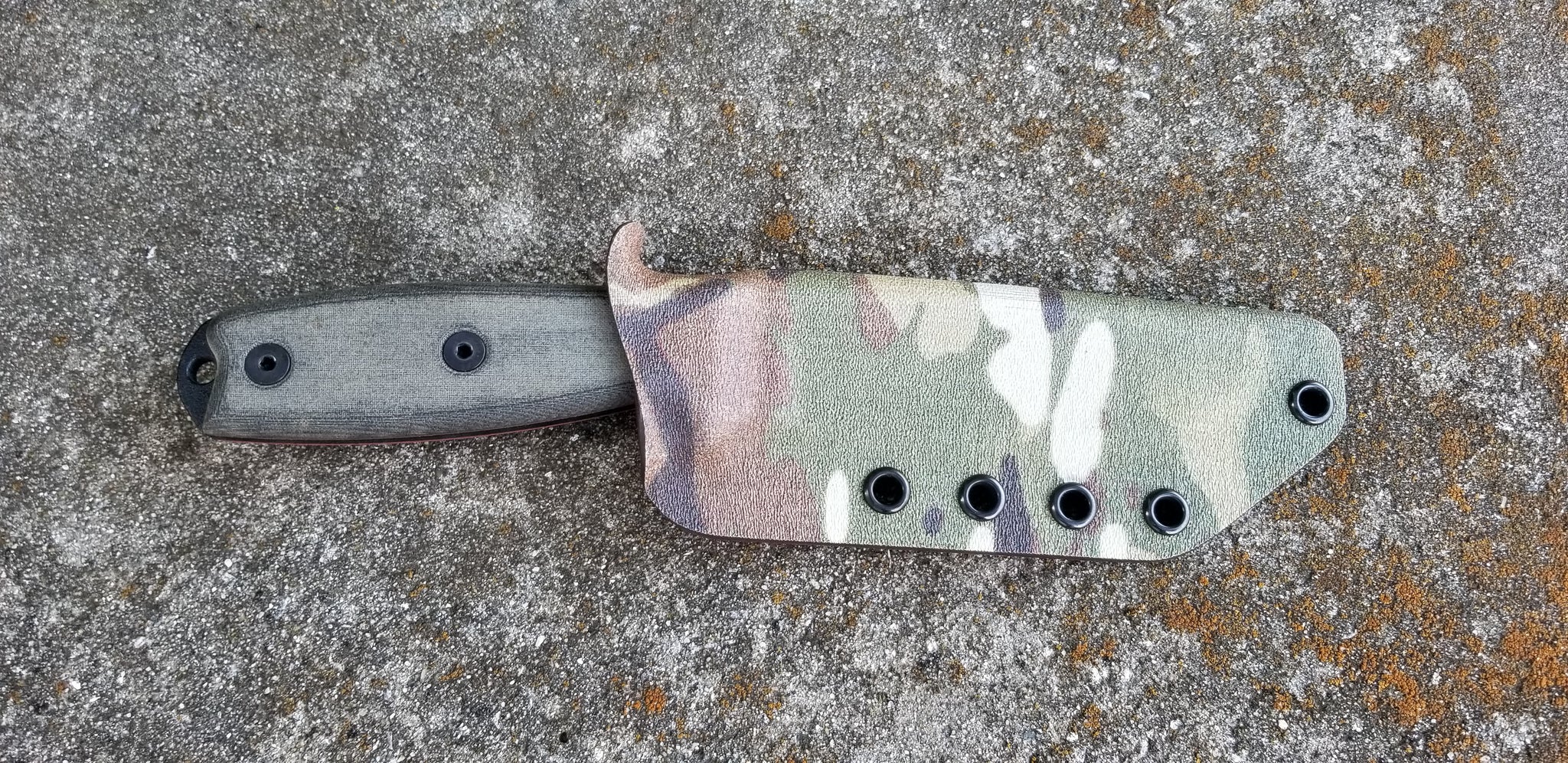 ESEE-4 Custom Taco style Kydex Sheath
Custom Kydex sheath for the ESEE 4 knife.
PLEASE READ
KYDEX SHEATH for the ESEE 4 in multicam (supercam)
Sheath is ready for any aftermarket belt attachments 
Color of your choice
Drain system is at the very tip of the sheath. 
Ambidextrous sheath with the ability to remount the attachments on either side for left or right hand carry. (Note: dangler system does require a left or right version.  Otherwise all attachments can be flipped over either side for left or right hand carry)
Eyelets are 3/4" center to center space and have 1/4" holes to accept most aftermarket attachments such as tek-lok, Molle-lok, Malice and any other attachments that have 3/4" spaced attachment holes or 1.5" spaced attachment holes. 
Eyelets ARE the weakest link therefore I overbuild using extra long barreled eyelets to create a larger/wider flange which adds to the strength of the assembly. The larger/wider flange also improves the looks of the finished sheath to match closely to the pre flange of the eyelet. (NOTE: Most makers cut costs by using ONLY what's "necessary" to hold the two Kydex halves together which means short eyelets which means tiny flange spread that can easily pull out!) So be sure to compare!! 
All Armorsheaths sheaths are modular and can build into any style rig you desire for whatever adventure you seek. Add a firesteel holder, and a pouch to complete your rig.
These listings are for the sheath and belt attachment ONLY. Knife NOT included. 
Please allow 7-14 days to create your sheath. These are custom made and require time to make. I do not keep ready made sheaths with custom upgrades and requests that require adjustments and redesign. 
Shipping inside the USA is FREE!