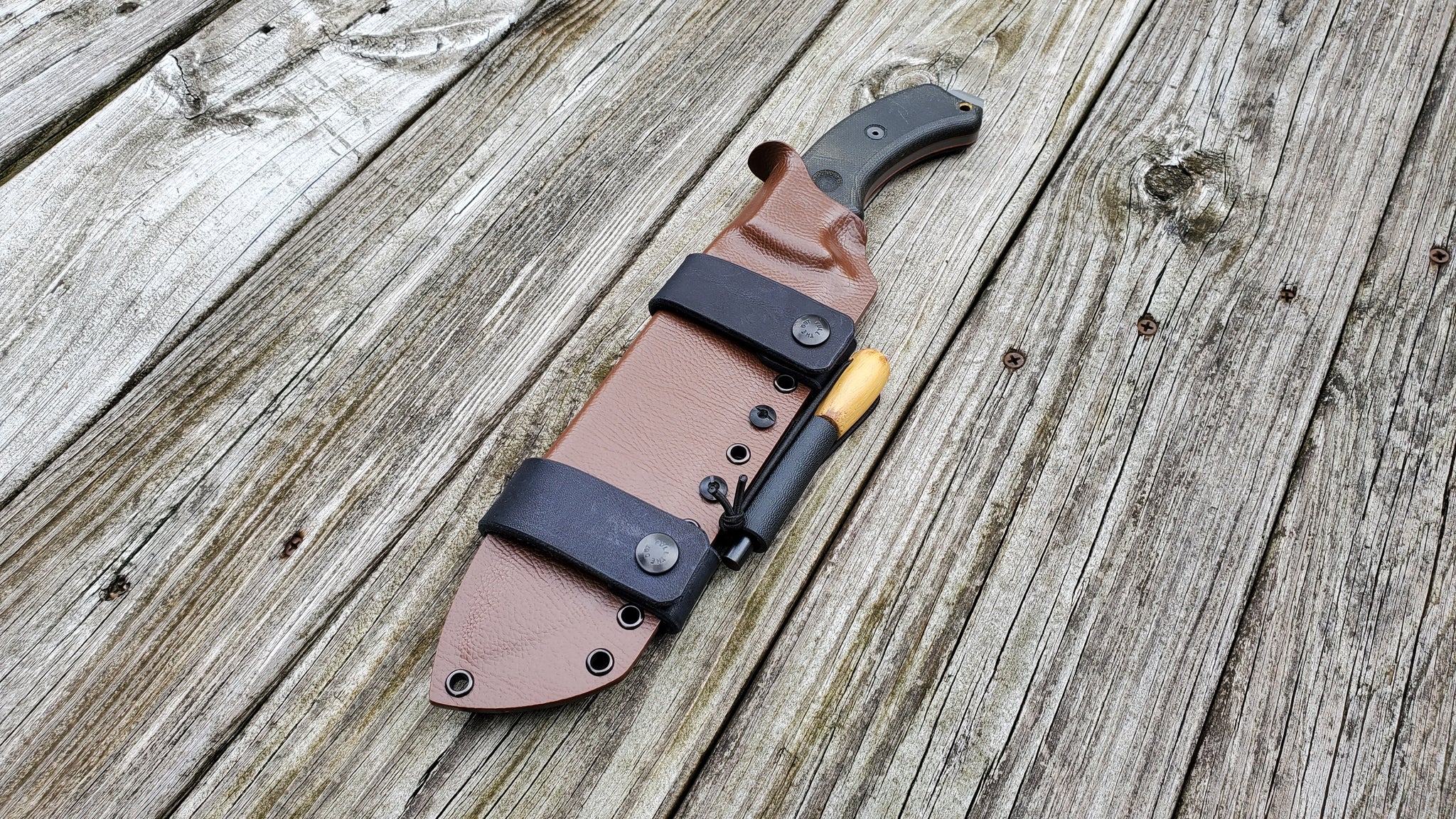 TOPS TAHOMA FIELD KNIFE Taco Style Sheath in SCOUT Carry w/ 2 single snaps & Firesteel Holder
Here is a Custom Kydex sheath Made for the TOPS TAHOMA FIELD KNIFE "SCOUT CARRY"
This sheath comes in RAPTOR Skin Texture. Resembles Leather with Skin Details.
SHOWN IN "BROWN"
Made in .093 thickness
A pair of veg tanned cowhide leather with High quality Directional Snaps (PULL-THE-DOTS). The Best and most secure snaps available!
Taco style sheath
Firesteel Holder that will hold up to 3/8" rods & Elastic Shock Cord included. FIRESTEEL NOT INCLUDED!!!!
High Quality Hardware for mounting accessories and attachments,  slotted posts and screws in black oxide and silencers. 
                        PLEASE READ BELOW
Firesteel in picture only shows how the elastic shock cord is to be used with YOUR firesteel. Tie it on your handle and stretch over tip of rod. NEVER RELY ON ONLY RETENTION WHEN IT COMES TO THE ROD!!!! Retention ONLY works with handles with points of retention ("high and low spots, curves, dips, holes, ect...)a straight smooth rod does NOT have any features that can create a retention point. 
Holes are spaced at 3/4" center to center to allow most aftermarket attachments and accessories. Attachments such as Tek-lok, DOTS battle Clip (similasr to tek-loks), Molle-loks, Malice Clips and many more with 3/4" spaced mount holes. There are plenty of eyelets to attach anything. 
The retention is SOLID, just like all my other sheaths. 
PLEASE READ FAQ PAGE FOR DETAILS ON LEAD TIME AND OTHER INFORMATION
Lead time is usually within 1-2 weeks. This will depend on workload. Please understand that these are custom made sheaths.  I do not mass produce. I build quality with fit and finish as priority. 
                         Free shipping in the USA