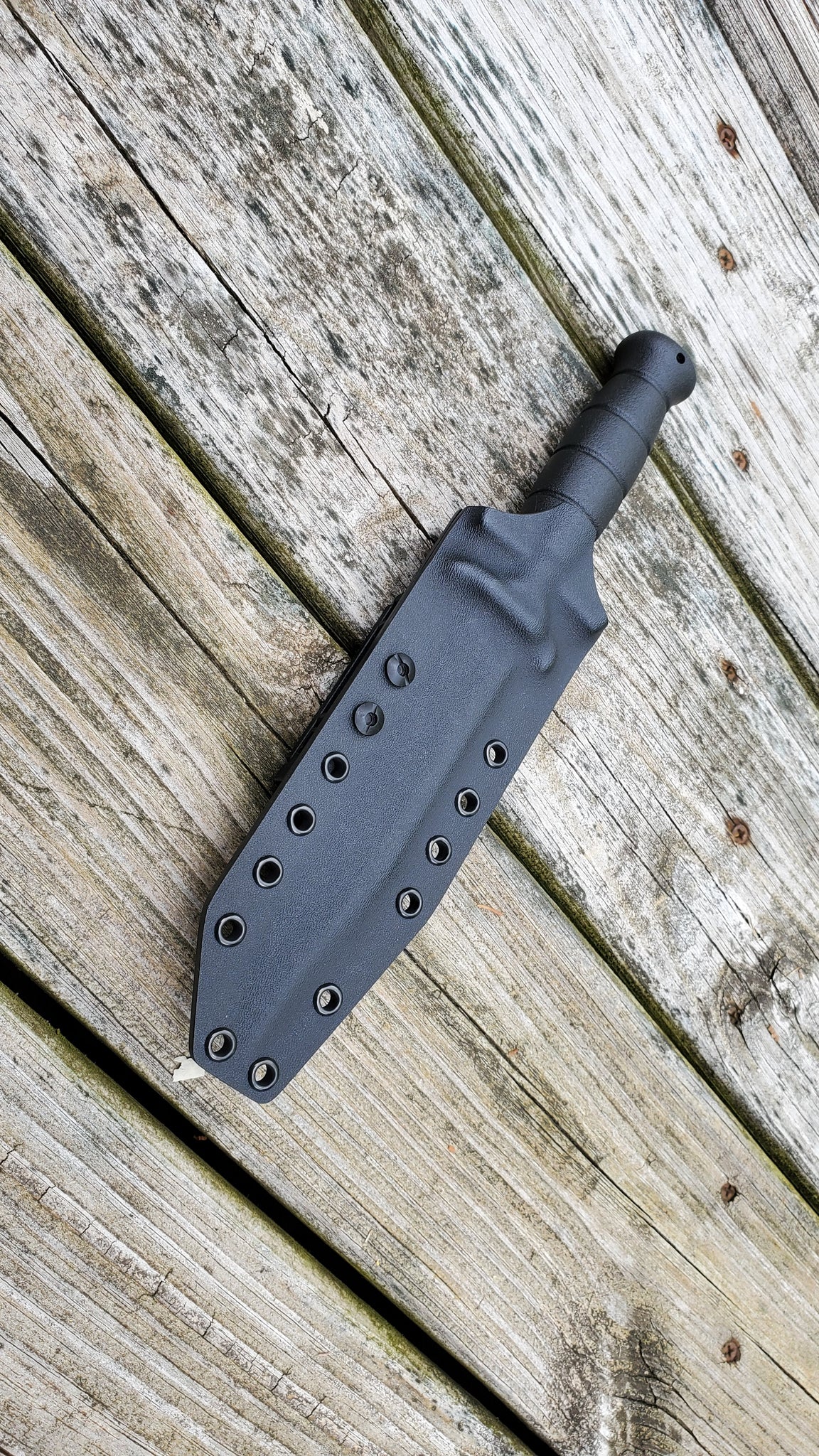 GLOCK Field Knife Kydex Sheath, Pancake, Narrow Dots Style Clip
READ BEFORE ORDERING!
Custom Made Kydex Sheath for the GLOCK FIELD Knife.
This sheath WILL FIT BOTH Models 78 & 81
This Sheath is a Major improvement over the Factory Issued Sheath. This Sheath is designed with Superior Retention without having to Struggle getting the knife out like you do with the Factory Sheath. This Sheath is designed for Tactical/Survival duty, with Super Quick Deployment, and locked when Not in use! Mounts inverted and Scout with excellent Retention, using proper attachments. The "Perfect" sheath that should have come with the knife in the first place!
Quick Deployment so this knife is ready for Action!
This Sheath WILL FIT Both 78 (Non-Serrated) & 81 (serrated) model
PANCAKE STYLE
Ambidextrous sheath for right or left carry
Sheath can be carried inverted or scout with solid secure retention of knife.
Quick Deployment!
Belt Attachment, Adjustable Belt Clip
.093 thick Kydex in Black, Strong Rigid for Abuse and to last a lifetime!
Long Barrel premium eyelets(Superior Assembly strength)
BELT ATTACHMENT,  None (Sheath is ready for Any Belt Attachment of your Choice with 3/4" mount hole spacing)
Eyelets spacing is 3/4" center to center, 1/4" diameter holes, to accept Aftermarket belt attachments,  such as Tek-lok,  Molle-lok,  Malice clips, DOTS belt clips, ect....OR ANY of my Custom made Attachments.
PLEASE UNDERSTAND THAT THESE ARE HANDMADE AND REQUIRE A LEAD TIME OF ROUGHLY 2 WEEKS. 
PLEASE READ FAQ PAGE FOR MORE DETAILS
                  FREE SHIPPING in USA
THIS SALE IS FOR SHEATH ONLY!