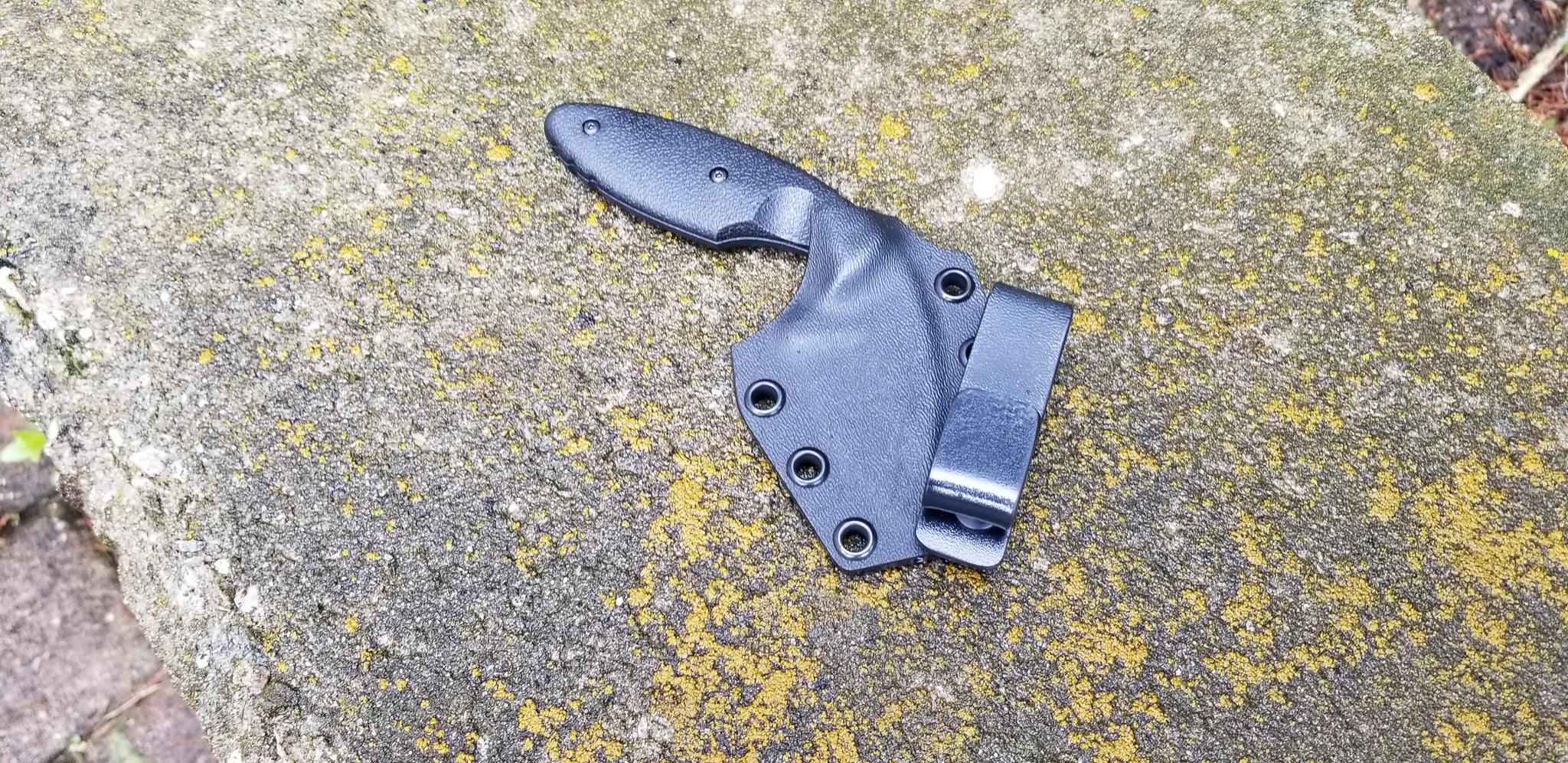 KA-BAR TDI 1480 custom Pancake style Kydex sheath with IWB J-CLIP
This is a custom kydex sheath for the KA-BAR TDI 1480, 1480s, 1477 serrated and the 1481 serrated blades. includes a IWB J-clip for Consealed carry. Very stable and confortable!
The different models are based on the edge style but the most important factor is the blade shape for a properly fitted sheath. That is why I use a standard non serrated blade. That way the blade "fills" any gaps along the edge and allows room to fit any blade of this particular TDI. The overall blade shape and primary bevel are the same. Only the serrated edge makes the difference. Serrations only removes metal on the edge and does not add to the edge size or general shape. This sheath in UNIVERSAL with ALL of this particular TDI.        Models 1480, 1480s, 1477 and 1481
The j-clip slides over the top edge waistband of your pants and the J-Hook hooks beneath the edge of your belt. This offers a very snug movement free wearability. Very comfortable and will move along with your bending and twisting.
I offer this sheath without any attachment so you can mount your own attachment such as Tek-lok, Molle-lok, malice clip or paracord lashing.
This sheath also wears nice as a necker with paracord.
The kydex sheath is made of .093 thick kydex and assembled with the highest quality eyelets on the market. The mounting holes are 3/4" spaced.
EYELETS ARE THE WEAKEST "LINK" THAT IS WHY,
I use long barrel eyelets for extra assembly strength, with more surface contact area for the flange to grab onto. The longer barrel allows more of the eyelet material to flare out during the assembly process. This produces a larger and stronger flange compared to using "standard" length eyelets that most sheaths are assembled with, which barely flares enough to just hold the pieces together. I go the extra step to improve the quality! The larger flange also gives a better finished "show side" look to the sheath. This is important for ambidextrous use if the other side is used as the "show side". So that is an added benefit to using longer barrels  for the eyelets. These are all USA manufactured eyelets using high quality alloys mix for top quality, not the junk used from overseas.
  >>>>>>>PLEASE READ MY POLICYBELOW<<<<<<<<
Includes Sheath and j-clip IWB loop for Consealed carry.
DOES NOT INCLUDE KNIFE!
SHIPPING IS FREE IN THE USA using 1st Class USPS .
International shipping is 1st class USPS
RETURNS are accepted but must be returned within 14 days after delivery and in UNUSED BRANDNEW condition. There is a 10% restocking fee.
These are custom made. I will need roughly two weeks to  make and to ship. Please allow time to make these sheaths. PLEASE READ FAQ PAGE...
If you want a different solid color please ask. Usually I  will have more colors or new additions to the inventory.
I carry about 120 other knives and counting. Contact me for any custom orders. I will continue to add to my collection.