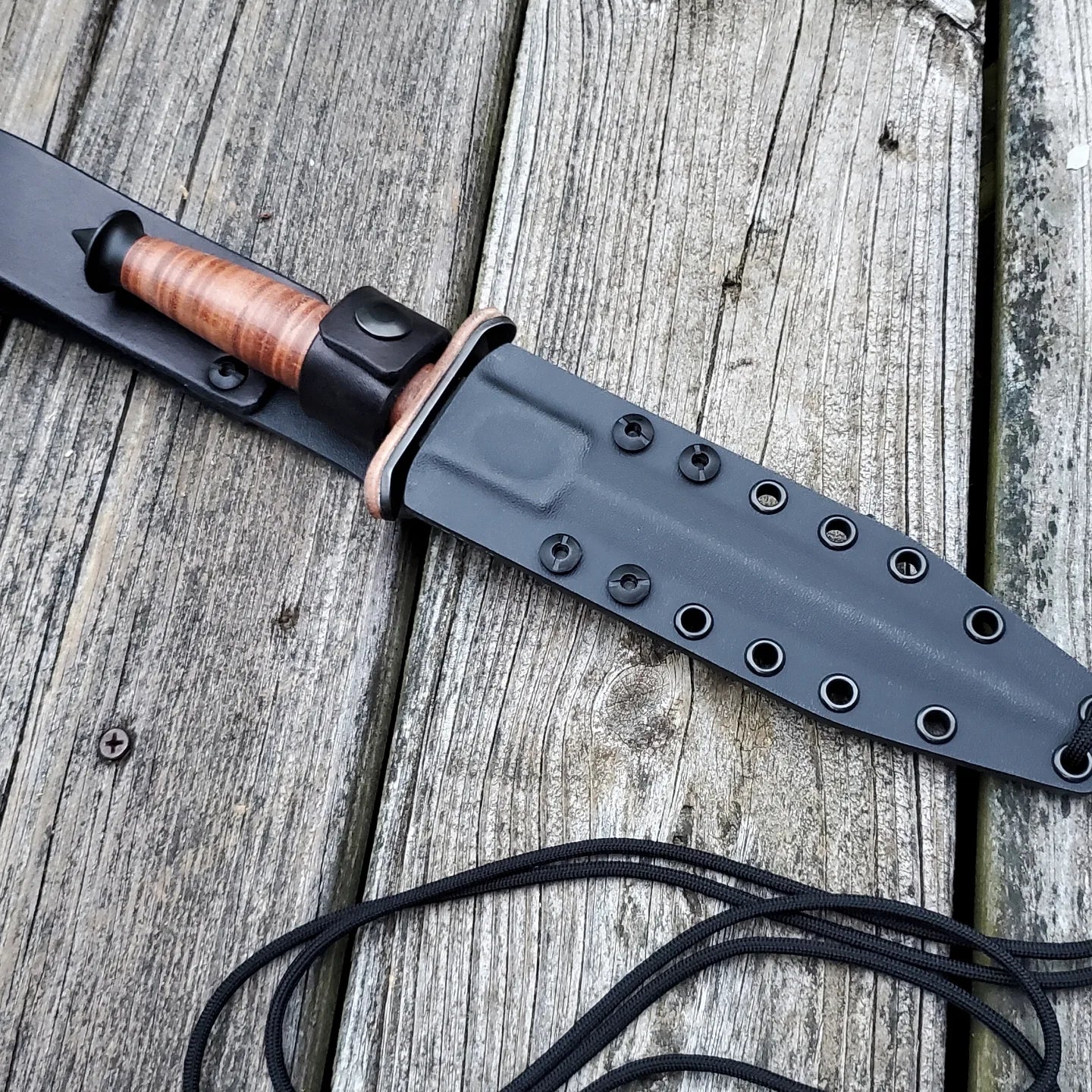 BOKER PLUS V-42 Kydex Pancake Sheath, offset leather with handle strap
This is a Custom Kydex SHEATH, for the BOKER V-42 knife.
BELT ATTACHMENT,                          Leather offset drop belt attachment with Leather Handle strap. The added benefit of the Handle Strap secures knife, though retention created by the thumb impression from the blade into the kydex is Excellent all on its own! Leather is hand cut and fitted uniquely to each Sheath I make. Every Leather piece is dyed, beveled and edges burnished.
MODULAR SHEATH,                                    This sheath design and eyelet spacing and positions allow for most aftermarket attachments.  Eyelet spacing has been carefully thought out from the tip to handle! This sheath can be created into a fully outfitted Piggyback system, Firesteel holder or any attachment I make, pouches, using the eyelets at the tip or along any Eyelet. My parts are interchangeable. Please understand the mounting positions with aftermarket attachments to be sure they are compatible. The universal hole spacing used by many popular aftermarket brands are 3/4" and 1.5". I space all my holes at 3/4" and 1.5"...
EYELETS ARE LONG BARREL,                 The longer barrel gives extra assembly strength and to create an eyelet rim, after pressing, that looks similar to the nice factory finished "front facing" look, making ambidextrous use look like the "front" of the sheath using either side! This sheath is AMBIDEXTROUS!
Eyelets are spaced 3/4" apart and are 1/4" diameter,                                                   to accept aftermarket attachments such as tek-lok, molle-lok, MALICE clips, and More. Or ANY of my custom kydex attachments.
GENUINE MIL-SPEC 550 3X7 PARACORD APPROXIMATELY 5'
RETENTION IS EXCELLENT with absolutely no worry of the BOKER V-42  falling out. This rig can be carried inverted without worry. Holds Nice, Firm & solid when put away. JUMP, RUN, CRAWL AND ROLL, it is securely locked away until you need it!
           SHIPPING IS FREE IN THE USA!!
PLEASE READ TO UNDERSTAND Lead time (WAIT LIST) to Make this Sheath. THESE ARE HANDMADE ONE AT A TIME.
There is a lead time (WAITING LIST) of ROUGHLY 2 weeks. This all depends on workload but the usual time frame is about 1-2 weeks.
PLEASE UNDERSTAND YOU ARE BUYING A CUSTOM MADE ITEM BEING MADE BY HAND, ONE SHEATH AT A TIME. 
THIS IS ONLY AN ESTIMATE THERE ARE TIMES I COULD BE VERY BUSY AND TAKE A LITTLE LONGER...ESPECIALLY THE HOLIDAYS FROM NOVEMBER ON THROUGH DECEMBER. 
I am a "one man show", so I could take a couple days to respond to messages if overwhelmed with orders and messages, which at times it does happen. I realize I will NOT please every customer, but I do try.
I WILL RESPOND TO CUSTOMERS IN THE ORDER IN WHICH THEY COME IN AND BUILD THE SHEATHS IN THE ORDER IN WHICH THEY COME IN. AVERAGE WAIT TIME FROM DAY OF PURCHASE IS "ROUGHLY" 2 WEEKS. 
>>>>>>>PLEASE REVIEW FAQ PAGE FOR MORE DETAILS<<<<<<<<<
Whats included?
PANCAKE SHEATH, OFFSET LEATHER DROP ATTACHMENT WITH HANDLE STRAP AND GENUINE 550 MIL-SPEC PARACORD ONLY!
       >>> !!!!  KNIFE NOT INCLUDED !!!! <<